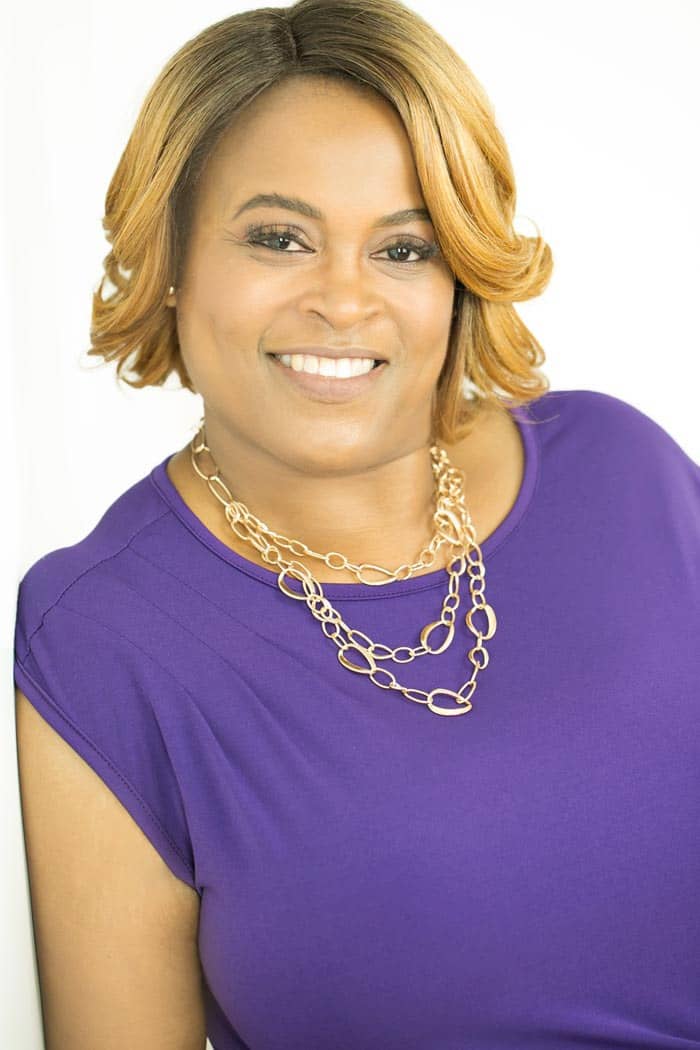 Hello and welcome!

My name is Sandra, I position parents to overcome their resentfulness and hopeless mindset, by recentering their focus on joy to experience a balanced lifestyle. I also hold parents accountable as we work together to position their children to increase their independent skills.

Growing up in a brick-row house on the streets of Brooklyn, New York City is where my career journey began. Who knew weekend and holiday visits with special needs boys from an orphanage would have planted the seed for my passion to grow 30 years later?

My mother was a counselor at an orphanage for special needs children. The boys were allowed home visits with us. These were 'good times'; lots of laughs, dancing, teaching, and time together. Looking back, I now know that those times were meant to be a part of my journey and I am forever thankful for the experiences. It prepared me for my career path and nurtured my parenting values as a special needs mom. As a single mother of a child with ADHD, ADD, and Anxiety, I face my daughter's challenges and my needs as a parent with love, understanding, and a systematic way. Yes, parenting is overwhelming most times, however, I have learned the importance of balancing my journey. One of my parenting mottos is 'My daughter's needs come first, yet my needs are important too'. This motto is the foundation of my coaching approach. Most times, parents dismiss their own needs because their child's needs are so much bigger. This may be true; however, parenting should be joyful. It is my mission to bring awareness to the importance of balance and to position parents to reclaim joy.
I've blossomed professionally over the years, yet the last twelve years have been very impactful and evidence of my upbringing. Every day I strive to be my best self, help others, and spread kindness. My mother, the late Gladys Watson-Blount wouldn't want my days to be spent any other way.


Blessing, Sandra


Sandra is the CEO of Sandra L Thompson & Associates and Life Advantage Support Services, the Best-Selling Author of Parenting Speaks, the creator of The Affirmative Journal for Parents, The Parent TAKE BACK Coach, Functional Development Interventionist, and an invested professional in the community. She has been featured in online and print publications; SPEAKERS Magazine, and Helpful Living Magazine, a contributing author for Autism Parenting, and featured on The Parenting 411 Podcast. Sandra holds a B.A. in psychology and currently resides in Richmond, Virginia with her daughter.
You are the MAGIC! – Empowering Parents Series
Join me! This event will take you through a series of realizations to empower you and reclaim your parenting joys. At the end of each discussion, you will feel inspired, liberated, and encouraged. Remember you are the magic if you don't believe it, register and I will make you a believer!
Healthy Boundaries & Realistic Expectations
Tuesday, March 29th at 7pm
A discussion about the importance of setting boundaries and having expectations without feeling guilt. Establishing boundaries and expectations create a healthy and balanced parent-child relationship.
Your Response & Stop Anticipating!
Tuesday, March 22nd at 7pm
A 'let's keep it real' open discussion about how your response affects the outcome and lasting effects of anticipating your child's needs or actions.
Explore effective responses to create a pattern of positive outcomes. Anticipation delays progress. . . anticipation demotivates. . . Anticipation is exhausting! You need to be present if you are the Queen or King of ANTICIPATION.
Tuesday, March 15th at 7pm
Learn what makes you magical. It all starts with you…change your mindset, self-care, make confident decisions and feel motivated. Create a personal mantra and action plan.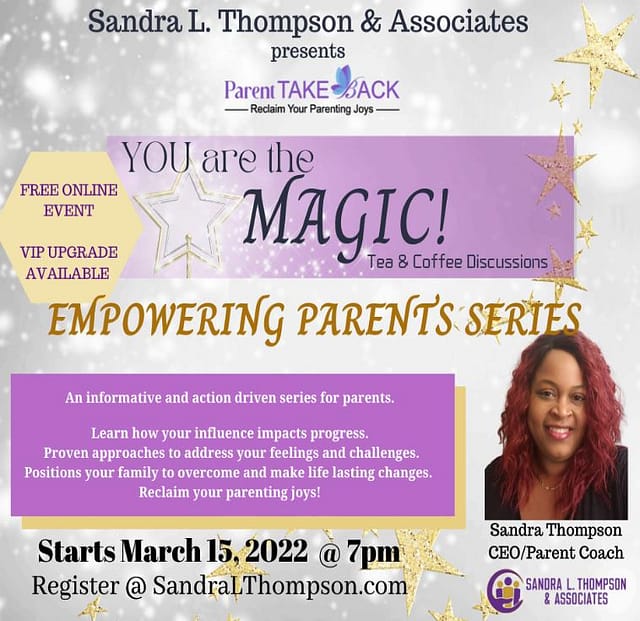 General Admission: Free
Join Sandra for informative and empowering discussions to strengthen your parenting skills.
Includes: Online access to series.
VIP Series Package: $97
Join Sandra for the power hour; 8pm. VIP participants attend after-hour interactive group discussions.  Ask specific series topic related questions, get direct answers, and share experiences with peers.
Package includes:
General Admission – Series 1-3
Series 1-3 After- Hour Interactive discussions with Sandra and peers
Social Engagement Activities
Series Bonus Materials
Prizes