Sandra L Thompson & Associates hosts resourceful and social events to position families for success. Our events are organized to be engaging, informative, empowering and fun.
You are the MAGIC! – Empowering Parents Series
Join me! This event will take you through a series of realizations to empower you and reclaim your parenting joys. At the end of each discussion, you will feel inspired, liberated, and encouraged. Remember you are the magic if you don't believe it, register and I will make you a believer!
Tuesday, March 15th at 7pm
Learn what makes you magical. It all starts with you…change your mindset, self-care, make confident decisions and feel motivated. Create a personal mantra and action plan.
Your Response & Stop Anticipating!
Tuesday, March 22nd at 7pm
A 'let's keep it real' open discussion about how your response affects the outcome and lasting effects of anticipating your child's needs or actions.
Explore effective responses to create a pattern of positive outcomes. Anticipation delays progress. . . anticipation demotivates. . . Anticipation is exhausting! You need to be present if you are the Queen or King of ANTICIPATION.
Healthy Boundaries & Realistic Expectations
Tuesday, March 29th at 7pm
A discussion about the importance of setting boundaries and having expectations without feeling guilt. Establishing boundaries and expectations create a healthy and balanced parent-child relationship.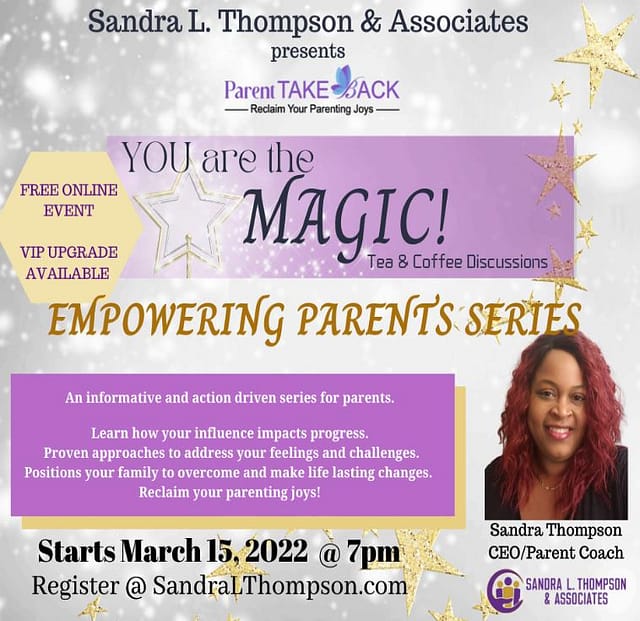 General Admission: Free
Join Sandra for informative and empowering discussions to strengthen your parenting skills.
Includes: Online access to series.
VIP Series Package: $97
Join Sandra for the power hour; 8pm. VIP participants attend after-hour interactive group discussions.  Ask specific series topic related questions, get direct answers, and share experiences with peers.
Package includes:
General Admission – Series 1-3
Series 1-3 After- Hour Interactive discussions with Sandra and peers
Social Engagement Activities
Series Bonus Materials
Prizes
The PARENT CHAT BOX is a group for parents of differently abled children and adults to learn about specific topics and share their experiences. The box is a safe place to learn from professionals and share with like minded parents. Join us Virtually every third Tuesday at 7pm in August, October, December, February April and June. Let's chat! Register today!