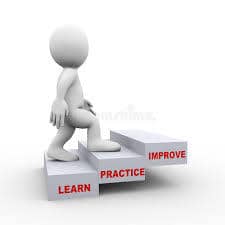 The process of learning is to learn, practice and improve.
When your child learns functional skills, it is essential to practice often.
Learned skills are at risk; use it or lose it!
As a parent, one of your goals should be to incorporate your child's mastered skills into their daily or weekly routine (where applicable).
When done consistently, skills will improve, and independence increases.
Learning happens daily, whether it be at home, school, in therapy, or in the community. It is up to you as the parent to be aware of what your child is learning in structured environments so you can help with generalization and create opportunities for practice. We all know the saying, 'use it or lose it', well this is true for our children as well. You put your child at risk of forgetting/regressing because the skills are not being practiced. Progress and recall are likely to be stable with your involvement.  It is your duty as a parent to know what skills your child learned in a structured environment and then create opportunities to ensure mastered skills are maintained and practiced.
Remember your child needs your help, encouragement, and participation to support their learning process. I challenge you to make a list of your child's mastered skills and incorporate at least two into their daily or weekly routine.  Let this be a start to helping your child not be at risk of losing what they have learned. 
Blessings,
Sandra