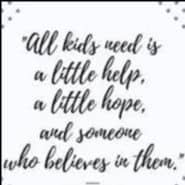 Parents the struggle of finding a motivator for your child is probably one of your biggest challenges. I totally understand your frustration and feeling of defeat. In truth, the biggest challenge of finding a motivator is the power of sustainment. However, we can attempt to combat that power with patience, discovery and follow through. Please understand that without accepting the challenge to frequently introduce new things while allowing at least 3 solid attempts per item for discovery; conquering this challenge will forever feel like a losing battle.
Finding motivators is like figuring out which sippy cup is the right fit for your child. So my point is, the same effort you put into finding the right sippy cup your child finally decided on, you put the same effort in figuring out what will get your child ready, willing and moving. Giving up is not an option!
For those of you saying, absolutely nothing motivates my child. Do not allow yourself to continue to believe this. Why? Because something will motivate your child and thinking outside the box is what will save you. Think about your child's interests and personality, while your are taking a closer look at your involvement in getting them interested.
This is my recommendation for addressing the challenge of finding motivators for your child. Read, ponder and accept the challenge below.
What? What are things your child finds intriguing? Edibles, tangibles (toys, games, fidgets, fragrances, random items of interest), physical interaction, sensory stimulation, public outings, personal (beauty) /self care, quality time with someone, or a cozy space/place. Also meeting their energy and excitement. Your response may just be what motivates your child. They are smiling and excited, because you are smiling and excited.
When? When does she/he needs motivating? Think about when you are prompting to ignite motivation most of the time. Is it to complete tasks/activities, engage in unwanted/unfamiliar ventures or skills, to boost their confidence, to change their mindset, to encourage progress and drive.
Who? Who is doing the motivating? Are all close family member demonstrating the same invested interest to motivate your child. If all close family members are not on board with the task, your child will gravitate to the neutral (non accountable) person and you will notice that resistance and unwanted behaviors will likely increase in the neutral's person's presence.
Why? Why is a motivator important? It is important because it gives your child a purpose to learn, engage, progress and move.
How? How will this impact our lives? Will the motivator you introduce do more harm than good. If it is an item or activity that can trigger OCD behavior or aggression, it's not going to motivate your child in a positive way. Please find something else.
Where? Where will this motivator be given? Where will they experience the motivator? Where will the motivators be kept? Motivator should be given immediately after the demand is completed. This is so the child can associate it with the expected action(s).
Additional information about motivators:
Specific motivators should only be given and experienced when a specific demand/expectation has been completed.
Motivators should be kept out of sight until delivery.
Motivators should not be used as a bribe.
Motivators should only be given when the expected outcome is delivered.
Motivators should be introduced at least three times before ruling out.
Motivators are motivating, even if it's not your ideal item, place, activity, edible, tangible, or time.
It's about motivating the child at the cost of inconveniencing yourself most times.
Be willing to change the motivator based on their interest level.
Parents be mindful of your energy when attempting to motivate your child. Always speak in a positive tone, use positive words and expect positive results. It may be a task they have tried before, so please, keep your past disappointment and negative words to yourself especially while discussing it with someone else in front of your child, within hearing range and directly to your child. Treat each attempt like a new day.
The Motivator Challenge1. Answer the above questions about three potential motivators.
2. Select one motivator and decide what is it's purpose. What do you want the motivator to do?
3. Introduce the motivator for a 14 day time period.
4. On the first day, introduce it without any strings attached for a specific outcome.
5. Follow the applicable information below.
Accepted Motivator
If the motivator has sparked more interest than usual, allow 10 minutes of discovery and put it in hiding (don't offer it, don't allow access, don't talk about it, don't allow during ideal time, stop doing it) for 24 hours.
Reintroduce the same motivator with an expectation. For example, first put your shoes away then you can have "xyz- name of motivator." When the task is completed present motivator immediately and allow 15 minutes of engagement only. Then put the motivator in hiding until the same expectation is needed.
Reintroduce the motivator two more times as mentioned above with same task/activity. It is safe to say the motivator is a 'success' if the motivator is motivating each time associated with a task/activity.
If the motivator is not motivating after the first time with an expectation follow the information below for rejected motivator.
Rejected Motivator
If the motivator is rejected put it away in hiding (don't offer it, don't allow access, don't talk about it, don't allow during ideal time) for 3 days. Reintroduce the motivator with a simple task/activity your child is familiar with. Allow access for 10 minutes and put it away in hiding for 24 hours. Reintroduce a total of three times. If rejected three times select another motivator and attempt to reintroduce the rejected motivator 3-6 months later.
I would love to hear from you. Post your feedback about your efforts to complete the challenge. Remember you won't know unless you try.
Blessings,
Sandra