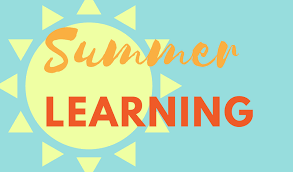 Learning should never stop! Especially in the summer. It is a proven fact that children of all abilities are at risk of losing acquired skills during the summer months while on summer break. Yes, some may attend the public school ESY program, yet how much learning is really happening considering the factors involved; different teacher, different classroom/building, unfamiliar routine/schedule and unrealistic goals. Unfortunately, you as the parent have little control over these factors. However, sending them will definitely maintain the routine of getting up and out for school.
Here are some things you can do to keep the learning going during the summer.
Review your student's current IEP. Become familiar with the goals and ask yourself, how can I create a learning opportunities to practice the objectives?
Ask your student's home teacher for materials or resources to assist with practice at home.
Create a schedule and routine for practicing objectives.
Remember every experience, task, and event is an opportunity for learning.
Contact me to schedule systematic tutoring or life skills instructions for your student. Perhaps you need support and guidance to create a learning environment in your home, I can help with that too!
I challenge you to start planning a summer of fun and learning. Your student will thank you later in their own way.
Blessings,
Sandra
---
TAKE BACK your parenting joys!
Learning should happen year round. Learn about how to teach skills to your student. Chapter Five in my book is the recipe for teaching skills. Order your copy of Parenting Speaks Practical and Functional Interventional Recipes here.   Why do it alone, when you are not alone? Click here for information about the Parent TAKE BACK Group Coaching Program. 
Your Parent Coach:

Sandra L. Thompson proudly serves the differently abled community. She has a degree in Psychology and has fifteen years of experience servicing children with a vast of abilities and their parents. Sandra focuses on the child's abilities, not their disability. She has a respected reputation in the community and is known for her creative approach as she meets each child and parent where they are. 

Sandra is an Educator, Parent Coach, Differently Abled Life Skills Specialist  and Best Selling Author of Parenting Speaks – Practical and Functional Interventional Recipes.  She has been published in Autism Parenting Magazine, Speakers Magazine and Helpful Living Magazine.  Sandra is dedicated to helping families and sharing her passion within the community.