building social skills
Social skills goes beyond saying hello to others.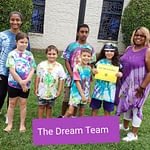 BUILDING CITIZENS IN OUR COMMUNITY
Leader's will virtually experience peer interactions, turn-taking, waiting and listening skills, creative story telling, small groupings, arts and crafts and conversation starters. We offer a learning and fun opportunity to present social skills lessons as leaders engage in fun, meet new peers, see familiar peers and be creative.